The use of the camera crane in the film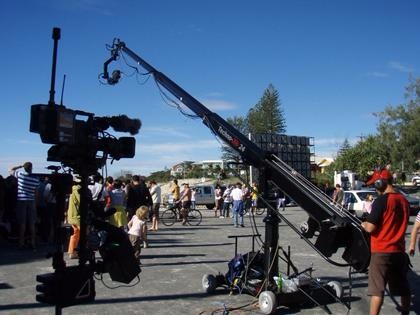 TV series
Camera crane technology is often used to introduce enterprises' data sheets, such as the scale of enterprises and products of enterprises, which can give full play to the advantages of camera crane. For example, when a continuous lens is required to show the large panorama of the workshop, the assembly line in the workshop, the work content of the workers and the spirit of the workers, the camera technology of the camera crane is required. First from the low angle to the worker's facial expression, then the lens shakes from the face to the working hand, then uses the deep perspective principle to swing the arm (toward the left or the right) to achieve the picture of the two people's work, the picture of the three work... A row of workers working picture, and then gradually raise the camera crane, the picture from a pipeline gradually into two pipelines, until the whole workshop panorama.
The image film is photographed in the same way.
The rocker camera technology is used more in TV plays, especially in the last few years, every TV series, even in each TV series, there will be a trace of the camera crane.
(1) use of long lens
Such as shooting a person on the walk: first to a person (close view), the camera crane gradually rise, pull away, so that a person walks on a street effect, showing the whole street there is a very small figure in the walk.
(2) tracking and shooting
Tracking shooting means shooting and tracking the moving subject within a certain shooting range, and laying tracks when necessary. If a car is to take a car from a distance, stop at the door of the hotel, get out of the picture of two people walking towards the hotel lobby, using the camera crane technology is the most expressive tension, and can make the picture of the lens.
Please feel free to give your inquiry in the form below.